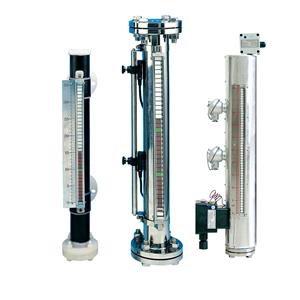 EFX By-Pass Level Transmitter
EF/MEF Series are by-pass level transmitter product lines, more commonly know as magnetic level gauge devices that can be equipped for local visual indication only or with level switches and an electronic level transmitter output. The magnetic level gauge units include their own self-contained chamber that would be mounted to the vessel, typically via side connections at the top and bottom areas of the EF/MEF by-pass chamber. The EF is standard size and MEF is a smaller "mini" version. These magnetic level gauge units are safer than glass gauges that they typically replace.
Giới thiệu
Tính năng
Ứng dụng
Giới thiệu
The EF/MEF series are magnetic level gauge product lines capable of providing local visual indication, level switch activation and a continuous level transmitter output, all from a single device. They are by-pass style level transmitter devices typically mounted on the side of a vessel. The EF/MEF magnetic level gauge devices use the principles of buoyancy and magnetism. A float with a magnet inside resides in the by-pass chamber. The chamber is attached to the vessel. The liquid level inside the chamber seeks the vessel liquid level. The float inside the chamber rises and falls as the liquid level inside the tank does the same. Visual indicators, level switches and magnetically activated level transducers can be attached to the magnetic level gauge by-pass chamber and are all activated by the magnet inside the float as it rises and falls in the chamber. The EF chamber has a typical ID of 2.36″ (60mm) and the MEF mini unit has a typical chamber ID of 1.18″ (30mm). These magnetic level gauge units are safer than glass level gauges that they replace.
Tính năng
Ứng dụng